This weekend it was Easter and in the Nederlands it's an official national holiday. This means that we have an extra day of free time on Monday. And what can you do when you are at home? Right! Use your printer to make some parts of the inMoov robot. You can see the result of the 3 day weekend on the picture below.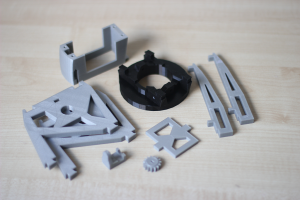 From left to right and from top to bottom:
ServoholderV1
RotMitV2
2x reinforcerV1
higharmsidev1
spacerV1
gearHolderV1
gearpotentioV1
These are all part that can be used on both arms. In my case these are all for the right arm. I was happy with the result and I also had time to print a part for a control box of my house. Maybe I write something about it also.
If you want to make a inMoov robot, please check the designer at www.inmoov.fr